JLL Named Number One Real Estate Investment Advisor in Indonesia
JAKARTA, 31 March 2022 – JLL was named the No. 1 commercial real estate investment advisor in Indonesia for 2021 by Real Capital Analytics (RCA), an independent analyst of global real estate transactions worldwide. In total, JLL closed $250 million worth of transactions, achieving 78% market share in Indonesia.
"We are incredibly honored to be named Indonesia's leading real estate investment advisor once again by Real Capital Analytics. This ranking is in recognition of our strong capabilities and reputation," says James Allan, Country Head of JLL Indonesia.
Notably, JLL was the go-to advisor in APAC hotel property transactions, representing almost all sellers' transactions throughout 2021. As for APAC retail property transactions, JLL achieved a dominant market share of approximately 50%. Furthermore, JLL's Indonesia Logistic & Industrial team also performed well in the industrial and development site transactions for the year.
"We experienced significant activity in the Logistics & Industrial sector in Indonesia last year, which is consistent with the APAC region. This also includes Data Centre transactions which contributed 10% of the Indonesia deal volume. Looking into 2022, with 3PL providers and e-commerce firms as the main drivers for logistics activities, we are hoping that the Indonesia Logistics & Industrial market will be busy and exciting." says Farazia Basarah, Head of Logistics & Industrial, JLL Indonesia.
Jacintha Herzog, Head of Capital Markets for JLL Indonesia adds "We appreciate our clients' trust, and it is our pleasure to have assisted a variety of market players in seizing opportunities and achieving their investment goals. We are looking at 2022 with confidence to be stronger than last year."
Despite the impact of the pandemic, JLL Asia Pacific Capital Markets business outperformed in 2021, with transaction volumes of $22.4 billion, an increase of 28% year-on-year. JLL was also named top investment advisor in Japan and joint-top in China and Australia respectively. JLL is the number one investment advisor in the Asia Pacific for Retail sector in 2021 and also Hotels sector for the 11th consecutive year.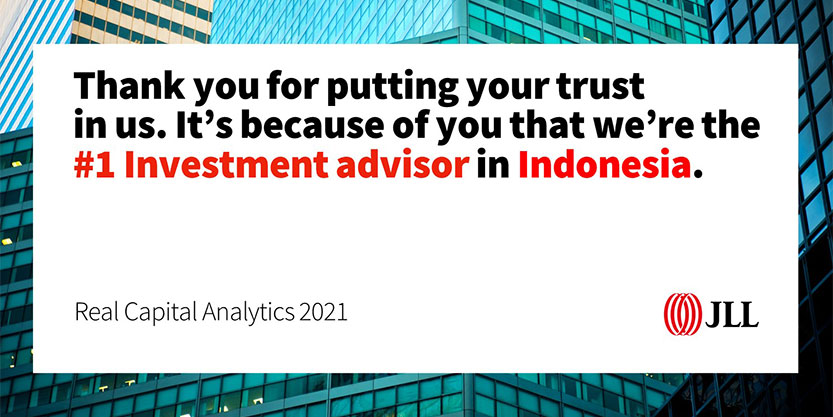 ---
JLL (NYSE: JLL) is a leading professional services firm that specializes in real estate and investment management. JLL shapes the future of real estate for a better world by using the most advanced technology to create rewarding opportunities, amazing spaces and sustainable real estate solutions for our clients, our people and our communities. JLL is a Fortune 500 company with annual revenue of $19.4 billion, operations in over 80 countries and a global workforce of more than 98,000 as of December 31, 2021. JLL is the brand name, and a registered trademark, of Jones Lang LaSalle Incorporated. For further information, visit jll.com.