ESG and China's Greater Bay Area office market
Developers and operators of office buildings in the Greater Bay Area (GBA) in China have made efforts to implement the ESG strategy.
ESG (environmental, social, and governance) has now become a major priority for occupiers, not only because companies are increasingly facing rigorous ESG reporting requirements but also because it can boost their resilience to global social and environmental challenges. After a series of interviews with commercial real estate developers and operators, it is encouraging to see that a growing number of occupiers have given significant weightage to ESG during their office leasing process. Consequently, we conducted a survey to take a detailed look at the ESG performance of 63 major office buildings in the Greater Bay Area (GBA), specifically Guangzhou, Shenzhen, and Foshan.
Before we get into the results, we want to point out that the importance of healthy and inclusive office spaces is heightened even though the ongoing pandemic is transforming conventional notions of where and how people work. Employees still retain a strong affinity for the office as it provides a sense of community and belonging. Therefore, beyond the traditional cost-driven factors, such as rent, floor efficiency, and accessibility, companies nowadays need to consider more people-related factors when making leasing decisions. With a stronger focus on employee well-being, flexible working, sustainability and employee engagement, the future of work is moving on to the next chapter. Companies that can adapt to those changes are more likely to attract and retain talents.

Figure 1: The evolution of the office ecosystem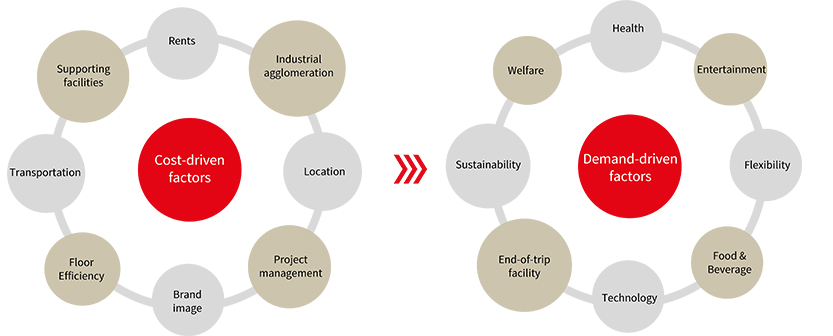 Source: JLL Research
E – Environmental
Figure 2: Selected questions on environmental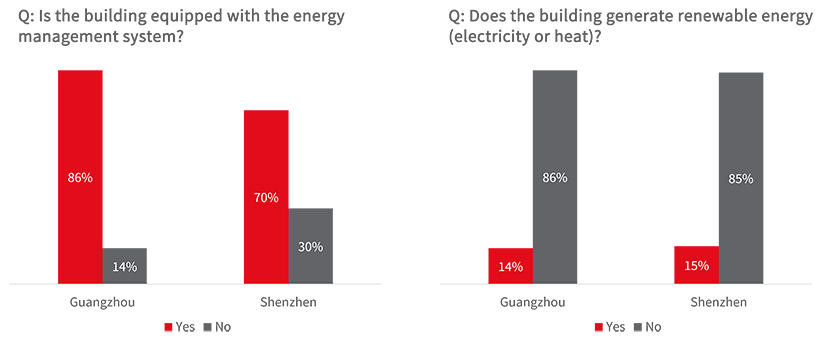 Source: JLL Research
The energy management system has become necessary for office buildings
The application of renewable energy is uncommon in office buildings
S – Social
Figure 3: Selected questions on social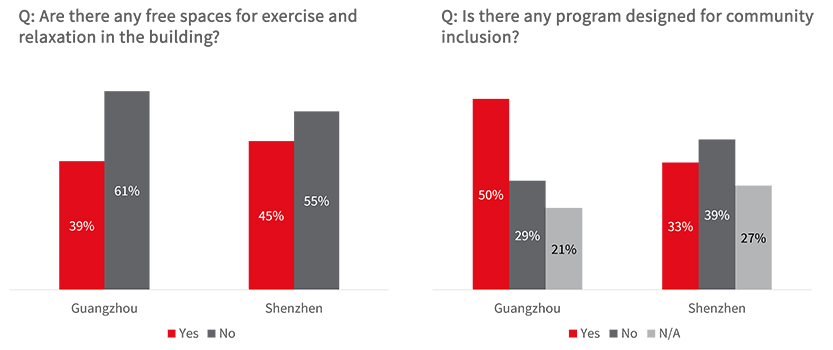 Source: JLL Research
Most of the buildings that answered yes are benchmark projects, accounting for around 40% of the sample
Around half of the completed buildings have realised the importance of social responsibility
G –Governance
Figure 4: Selected questions on Governance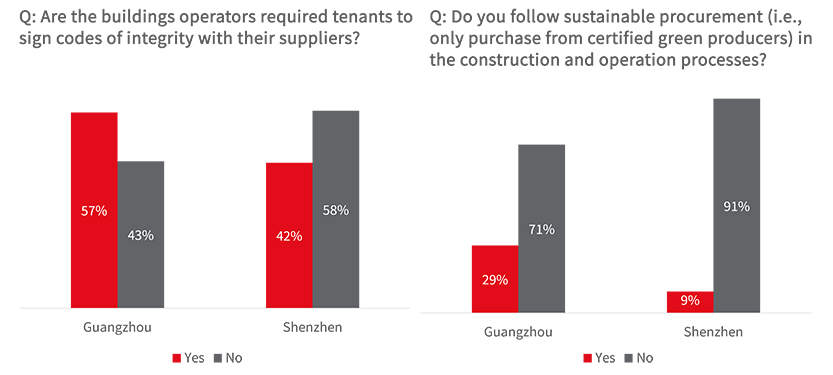 Source: JLL Research
More emphasis should be put on the compliance operation as only half of the surveyed buildings take it seriously
Foreign developers and those listed in Hong Kong pay more attention to sustainable development
The survey showed that the Grade-A office market in the GBA has tried to practise ESG standards and meet occupiers' needs. Generally speaking, developers and operators are putting more emphasis on the environmental aspect while neglecting the social and corporate governance parts as they are hard to measure and monitor. In other words, the complete transformation to sustainable development needs further attempts.

To further foster ESG, a joint effort of government regulation, existing buildings renovation, and market incentives will be of great help. Given that the country recently set the carbon dioxide peaking and neutrality goals, a wider application of the carbon emissions trading system for commercial real estate is anticipated. Developers and operators will enhance their governance capabilities through better management to reduce cost and risk.

Other than that, it is crucial for them to capture the changing needs of occupiers on a regular basis. For example, offering more user-friendly leisure spaces, which promote productivity, well-being and sustainability, is key and can be achieved easily for both completed and future projects. Also, as an integral part of the community, office buildings and their operators can undertake more social responsibilities, such as expanding contribution by donating to charity and holding more events.

In conclusion, the survey results will guide developers and operators on how to design their office buildings and satisfy occupiers' needs, especially when a large influx of future supply is expected in the mid to long term. We believe that the ESG commitments of all parties in the GBA will continue to drive strong and profitable long-term growth.